Jac Dalton's 'ICARUS' is a fierce, no quarter crusade of balls-to-the-wall, no-holds-barred classic rock music that engages the listener with a sonic safari of badass attitude mixed with a decidedly modern shape and color.
A MUST HAVE for all serious head bangers and bangesses looking for a vacation from the mundane "wimp rock" we've unfortunately come to expect. Graham Greene's searing guitar work is a modern version of AC/DC-ish flair and flurry that is both inescapable but warmly user-friendly that lures the unsuspecting into the slaughterhouse like a bait. As a result, one comes away with an entertaining snapshot of Hair Metal music, as told by a modern sage. It's good to rock out again!!!
John Hampton – Ardent Studios, Memphis TN
(Four-time Grammy Award winner)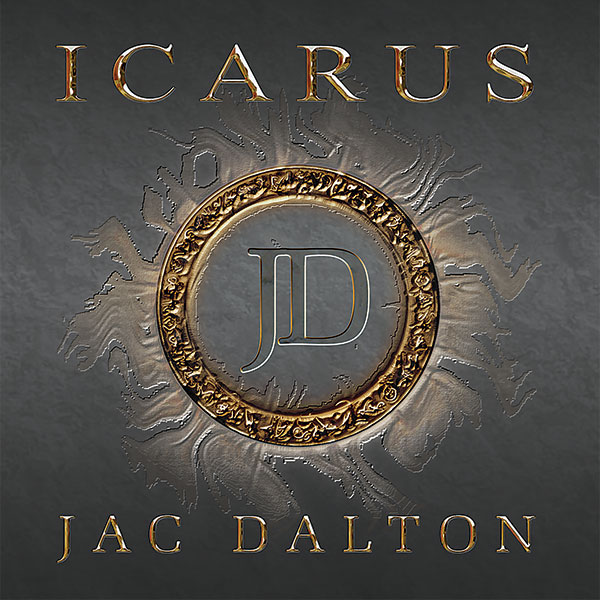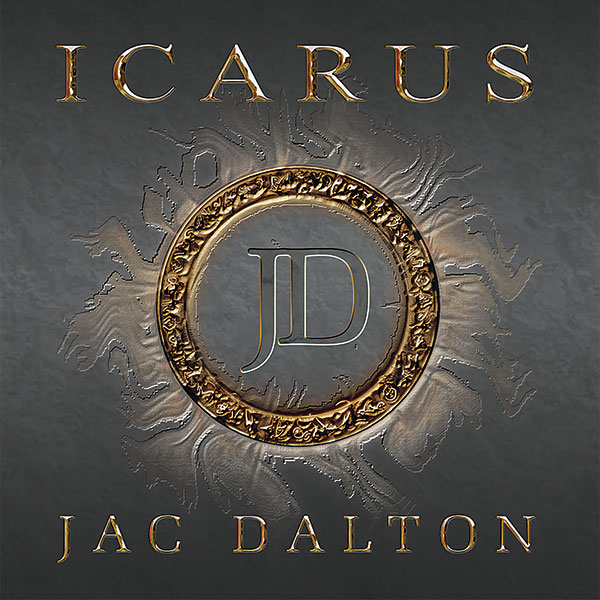 Nick Katona: CEO Melodic Revolution Records [US] and DJ on AiiRadio.net [Germany]
[On Jac Dalton and "Waterline"] 2014
"I get a ton of music sent to me as you are all aware and every now and then I find out about a band that still creates magic with every beat – this band is one of those bands! This is pure melodic rock! Check them out and judge for yourself."
Sofi Berock "Heaven"
BeRock Radio (Greece) – 2014
*Band Score: 9.5/10
"Incredible Band that excites you with their tunes. Melodic Rock/Hard Rock at its best!!"
"The compositions of the songs are amazing!
Definitely one of the best Albums I've heard in the past 5 years!
I like this album more than "1987" by Whitesnake!"
Max Christofferson
KissFM (New Zealand)
"Great songs, great band and production with a ripping bass player you can actually hear! The most exciting straight ahead Oz-rock band we've heard in a while! Every track is on station and we want more please!
The outstanding instrumentation on the JD album Icarus would be for nothing if the songs weren't great tracks. But they are – there's not a dud on this set! Each band member works for the song and it's an example of great arrangement and production with everyone making their contribution to some outstanding songwriting. There are hooks to die for and some screaming band work that really has punch, modern guitar panache and lasting melody lines. The great thing is that it's a mature, tight fully fledged 'band sound'. We're going to be going strong with Icarus for some time to come and other rock radio stations have to be stone deaf not to be playlisting Jac Dalton Band's Icarus album! An Ozzie stunner!"
SinisterGirlz.com Review
Jac Dalton Band – "ICARUS"
"Newcomers to The Jac Dalton Band will quickly fall in love with the seven-piece Australian rock band. There's no denying that the band consists of seasoned musicians. Their melodic rock tunes are reminiscent of those of the Best of the Best classic rock bands. Whether it's their up-tempo love song, "For Your Love" or the rifftastic "Armed and Dangerous" there's something for rock aficionados the world over. When front-man Jac Dalton sings, "we're ready to rock again"… he wasn't kidding!"
ROCKTOPIA 'ICARUS' REVIEW (2014) by Alexandra Mrozowska
"A classy record altogether and very recommended!"
After recording a Country/Rock crossover album ('From Both Sides' – which I dug, especially the more Rocky tunes), Jac Dalton returns with 'Icarus'. The Aussie based American singer, supported by a team of outstanding musicians (Graham Greene, the leading guitarist from down-under to mention just one) resigns from his Country-ish sound in favour of expanding the other musical territories. What he's heading towards now is Melodic Hard Rock/AOR, and 'ICARUS' is the result of this musical expansion.
One of the best things about this album is the perfect balance between musical diversity and cohesion. On 'ICARUS', there are fast-paced songs with pumping bass lines and feisty guitar riffs, full of Rock clichés lyric-wise ('Locked, Cocked And Ready To Rock', 'Suck Bang Blow') as well as more mellow, radio-friendly and keyboard-driven tunes which could be mistaken easily for Bon Jovi – especially around 'Have A Nice Day' era, Melodica or the Revolve-era Danger Danger ('Good To Go', 'For Your Love'). A beautiful wailing guitar tone in the eponymous track 'Icarus', with its Blues/Southern Rock flavor, is a deliberate throwback to Dalton's past as well as a tribute to his Southern heritage, making this song an excellent one, and one of the album's highlights alongside 'Armed And Dangerous' (with its outstanding guitar shredding) and the final track 'State Of Rock' (a guilty pleasure for each and every 1980s AOR fan). The weaker moments…? Perhaps, the cover version of AC/DC's 'Back In Black' could be? Dalton's apparent tradition of including one cover on each release continues, but this time, with slightly worse results than before (his stellar take on Jovi's 'Wanted Dead Or Alive' still remains one of the best moments of his first record without doubt).
However, the truth is that pointing out any flaws of this album is a difficult task to complete. While it might not have broken a lot of new ground music-wise, the album remains a rock-solid collection of diverse AOR/Melodic Rock tunes that are very well-crafted and performed. It portrays Dalton as he naturally progresses from the Country-ish Rock sound of his debut album towards edgy Melodic Rock; a progression that is very fruitful in result. Plus, the icing on the cake is Jac Dalton's raw, raspy style of singing that is in vein of David Coverdale, Paul Shortino or David Reece. A classy record altogether and very recommended!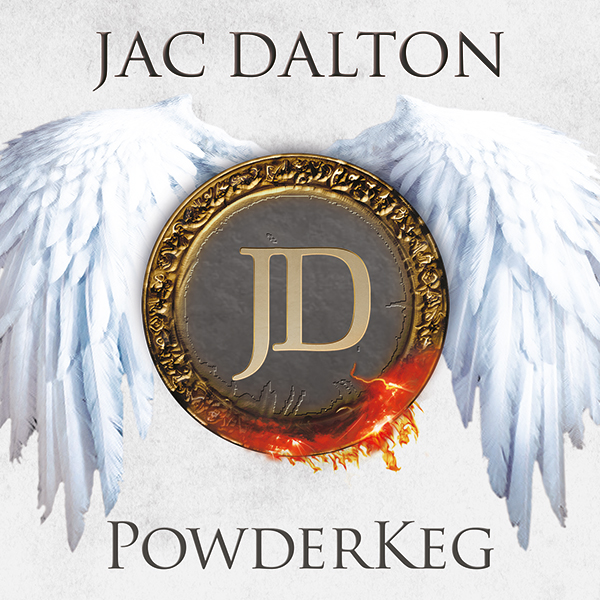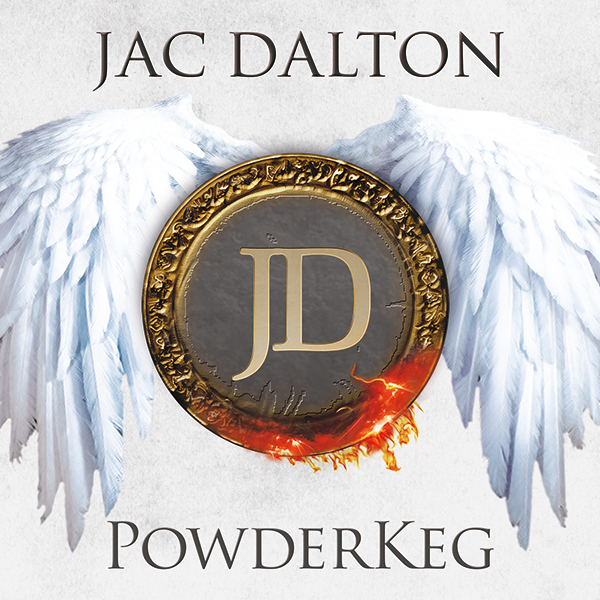 POWERPLAY MAGAZINE (2017)
Jac Dalton – POWDERKEG
HARD ROCK – INDEPENDENT RELEASE
By Dave Cockett
Jac Dalton. Make sure you remember the name. Write it down. Put it in your rolodex. If you're an 80s Dude, Oz rocker Jac Dalton favors that flavor and it hasn't done him any harm. In fact, this third release is DAMN GOOD! It's hard rock with a bluesy, classic feel and all the better for it. It never wanders far from Whitesnake Way or Bad Company Boulevard, although they do saunter down Skynyrd Street at times. One thing which elevates this release above so many others out there is the use of female backing vocals with a soulful touch; it rounds out songs such as 'Can't UnRock Me' and dances with the low slung riffing and simplicity of the organ-driven 'Blow Me Away' – but there are other surprises too.
'Just Enough To Believe' is one of the best AOR tracks you will hear this year, driving through the sun with the top down, just enjoying its youth and expectation. And 'One Heart, One Land' goes all out for the swamp, the porch, the hooch, the huge suvvem ballad approach, as heartfelt and seasoned as a good ribeye.
You can throw a dart at any track on the album and hit a winner. Vocals bellow and purr, solos cut and caress, the organ wheezes and warms. This is a wonderful place to spend your time and if you want your rock hard and your music memorable, this is the man for you. 'PowderKeg'… don't touch the blue wire!!!
*** 10/10 ***


FIREWORKS MAGAZINE – ISSUE #72 – "POWDERKEG" CD REVIEW 
OCTOBER, 2015
By Alexandra Mrozowska
For some reason or another – be it high expectations or simply fatigue – the so-called 'third album syndrome' is not generally avoided by many artists.  However, some are also able to defy this recurring phenomenon; each of their three consecutive albums being a step forward rather than corner cutting.
US born Aussie singer/songwriter JAC DALTON returns so as to prove his adhesion to the latter rather than the former group with his new album POWDERKEG.  If there was anything left to prove after the stylistic volte-face of his second album ICARUS, the follow-up to it should put the doubt to rest.
Change within sound aesthetics between the two preceding albums of Dalton was perhaps not drastic, but noticeable.  In the case of POWDERKEG, it picks up more or less where the sophomore effort left off.  But this time around all knobs are simply turned up to eleven!
The opening eponymous track is a clear testimony to this with its massive keyboard-laden Melodic Hard Rock sound which blends contemporary, polished production with a distinct 1980s vibe.  The rest of the material doesn't fall behind as well – whether it's a catchy up-tempo driven number with powerhouse chant and dynamic instrumental background ('Roll With The Punches', 'HardCore SuperStar', 'Can't UnRock Me') or a moving ballad with a message ('One Heart/ One Land').
His tradition of paying homage to the Classic Rock pantheon is continued on POWDERKEG too, this time a gem of a choice being Aerosmith's 'Sweet Emotion'.  A bold but brilliant take on it sees Dalton gravitating towards straightforward Rock aesthetics rather than slightly Bluesy flavor of the original version.  AOR-ish tune 'Just Enough To Believe' is another reference in terms of lyrics – expressed less explicitly perhaps, but if you grew up in the 1980s or are familiar with Rick Springfield's catalogue (or both), you should get the trick right away.
As explosive as its title rightfully suggests, POWDERKEG is another step forward on the Melodic Rock path for Dalton and his Aussie ensemble.  A logical continuation to its predecessor music-wise, yet even stronger than the aforesaid sophomore album, it combines the classic and the modern into a pulsating, lively musical entity.  
It is certainly the best release from Jac Dalton so far, as well as being one of the best representatives of its genre released in 2015.
Alexandra Mrozowska


0DAYROX – UK (LINK)
We were already amazed by JAC DALTON's previous album remastered / repackaged and reissued last year in the wait for the new CD. The day has come, and JAC DALTON are releasing their new opus "POWDERKEG" today, October 25.

"POWDERKEG" makes justice to its title: it's an explosive collection of songs blending traditional Melodic Hard Rock sound with timeless Classic Rock riffs and hooks.

Born in the USA but established many years ago in Australia, Jac has conformed a terrific band of musicians which have been together for almost a decade. And you can tell this – "POWDERKEG" sounds like a real band, powerful, tight, energetic.
Part of the success of the 10 tracks presented here should be credited to guitarist Graham Greene (leader of great rockers Ice Tiger) whose riffs and solos shoot these songs to the stars.

There's ridiculously catchy tunes in the rollicking opener title track "PowderKeg", the arena-ready "Roll With the Punches" and "Just Enough to Believe" (think Night Ranger), the bouncy "Can't UnRock Me" and the midtempo heaven of "When I'm Alone With You".

One of the best things about this band is the perfect balance between musical diversity and cohesion. They mix Melodic Rock and Classic Rock with ease, and all sound natural.

Jac Dalton and the guys go for more classy sounds on "Blow Me Away" including vintage organs and female backing vocalists, "Let It Go" injects some '70s 'lively' vibe, while the semi-ballad "One Heart / One Land" comes out organic and truly from the heart… a rock n' roll heart I must say.

The Jac Dalton Band also does a cover of one of my favorite Aerosmith songs ever: "Sweet Emotion", and they indeed deliver an emotional, punchy, highly melodic version of this classic.

If you listened to Jac Dalton Band previous album ICARUS, you know what to expect from "POWDERKEG", If you don't, what are you waiting for?

This is high quality American FM Radio Melodic Rock as they don't make it anymore.

As a serious fan of this genre you need to check both records!  You won't regret it, believe me!

Highly Recommended
10/10


100% ROCK MAGAZINE (LINK)
Independent
August 2015
Reviewed by Shane Pinnegar 
9 /10
Expat American Jac Dalton brought his country rock roots all the way from the Carolinas to South Australia a few years ago, and was teamed up with West Aussie guitar shaman Graham Greene by astute musical matchmaker Nana Mex – the result was 2010's excellent Icarus album.
Fast forward a handful of years and they've again managed to overcome the tyranny of distance to convene the six-piece and record the even better POWDERKEG.
And I can tell you folks, what we've got here is a Masterclass in Melodic Hard Rock.
Dalton is a velvet-lunged powerhouse of a singer, with a clean tone and range that cannot fail to impress.
Greene's credentials precede him so much they are almost redundant: 'The Satriani of the South', 'Guitar Shaman', 'Maestro' and many more titles have been applied to him. Much more than just a local legend, he has an international presence.
As if one outstanding guitarist wasn't enough, there's also Annemieke Heijne, a player of such dextrous feel that she is capable of entrancing fans at gigs like a snake charmer.
Troy Brazier and Jim Awram's rhythm section never miss a trick – never have – and Darren Mullan's keys are there to enhance the show every step of the way, but it's his production which really shines. Not that a secret weapon is needed in such esteemed company, but if it was, it would be Donna Greene – wife to Graham, and the backing vocalist with the mostest.
There's a cover version of Aerosmith's Sweet Emotion on POWDERKEG which is pretty damn fine. It rocks hard without rewriting the rule book, and gives the players a little room to move. It speaks volumes that that may be the weakest track on the record.
The title track is explosive; Roll With The Punches delivers on every rock n' roll level; Hardcore Superstar sees Dalton analysing the rock excess of the past; Let It Go is the catchiest rock song radio won't play this year; and One Heart/One Land (Chloe's Song) is simply a beautiful tribute to a life lost far too soon.
POWDERKEG really does have it all, and how Dalton, Greene and Co haven't been snapped up by the likes of Frontiers, Nuclear Blast or Earache Records to distribute their world class music on a global scale is, frankly, a stone cold mystery.

MetalTalk.net by Johnny Main (LINK)
Jac Dalton was born and raised in North Carolina before moving to Adelaide, South Australia – the place he now calls home. Dalton has always been a world-class performer and musician but when he's not producing his own unique brand of guitar driven rock music, then he's living a normal life as a Chiropractor and Functional Neurologist. 

POWDERKEG is Dalton's third full length album and it sees his trademark of soaring vocals, intricate harmonies and inspiring screaming guitars sending out positive uplifting messages in an edgy blend of classic melodic rock that pays homage to the Great Southland while still managing to forge an unmistakable international identity.

A couple of tracks here may be familiar to the casual listener and certainly to the team here at MetalTalk Towers. 'Roll With The Punches' was released as a single back in June 2014, so it's inclusion here while not entirely unexpected, is not disagreeable either.
The main guitar riff drives the track and there's a really good guitar solo courtesy of axeman Graham Greene that takes centre stage before the main guitar riff provided by talented guitarist Annemieke Heijne makes a welcome reappearance as the song 'rolls' (no pun intended!) on towards its finale.

The second track is a cover of the Aerosmith classic 'Sweet Emotion' and I'm slightly confused as to its inclusion here. I don't mean that in a bad way – don't get me wrong – it's a great song after all and this is a really good version of it.  But I just wonder why Dalton chose to insert a cover song when his own material is so very strong.

Having said that, this particular version of 'Sweet Emotion' features some really good harmony vocals showing no lack of talent within Dalton's recording band, while both Graham Greene and Heijne equip themselves well with the guitar track while drummer Troy Brazier plays a simple and sympathetic beat.

As far as the other tracks included here goes, you have a real rocker in the form of the title track, 'Powderkeg', which pulls no punches as the guitar riff is in your face from the get go.

Brazier's drums fill out the rest of the number really well while Donna Greene steps up with some great backing vocals that are prominent in the mix, creating a counterpoint to Dalton's vocals, but it's easy to see why this was chosen as the albumstitle track. 

'Just Enough To Believe' is another great song which bounces along. It has a different sound, being a bit more lively sounding than some of the other tracks, probably due to the guitar being positioned very much in the background, allowing Dalton's fine vocal performance to come to the fore. 

You could be forgiven for thinking that a track titled 'Hardcore Superstar' would be a fast paced rocker but you couldn't be more wrong here! The track may be heavy, yes, but it's more of a slow paced burner that allows the guitar to be the star.  From the heavy basic riff to the more intricate stabs, this song is all about the guitar. Likewise, 'When I'm Alone With You' is another slower paced number with the guitar, again, front and centre. Dalton gives a more bluesy performance here with his lyrics punctuated by the guitar while the guitar solo from Graham Greene is among the best.

There is, of course, a ubiquitous ballad on the album, and 'One Heart One Land' fits this role perfectly. It's a song about Dalton's love of Australia, which has the piano and guitar working together on a track that obviously means a lot to Dalton. He gives an incredibly sincere and passionate performance which is backed up with vocals from Donna Greene giving it an almost Gospel feel at times. 

In fact, the advance version of the album I've got has this track not once, but twice. The standard version and a hidden version right at the end of the album. This second version is a simplified acoustic version, which is an unexpected but delightful end to the album with just vocals (from Dalton and Donna Greene) along with guitar and some light percussion. The electric version is great but the acoustic version is just something else completely.

Listening to this album as a whole, there's no doubt that this is Dalton's most accomplished work so far, and it's clear his career trajectory is still well on track – so let's hope that his ambition matches his song writing potential and that he's got the drive to follow through with future albums. 

As Dalton himself says during the title track, "Tick tock, Let's rock!"
10/10

FabricationsHQ  by Ross Muir (LINK)

From the reverberating synth-line, full band build up and burst of six-string soloing within the first few bars of opening number 'Powderkeg,' you'd be forgiven for thinking you knew exactly where the title track of Jac Dalton's latest release was leading the album – straight to the heart of hard melodic rock with all the power, swagger and clichés the 21st century variant of the genre can bring.

If that's what heavily and melodically rocks your world, you're going to love what the big voiced Australian (Dalton was born and raised in North Carolina before calling Adelaide home) delivers on the welcome-to-the-show styled number, from the full-on sonics, unfettered guitar lines, big chorus vocals and the "set to explode… like a Powderkeg!" punch-line.

But while 'Powderkeg' the song certainly makes an impact, it doesn't tell the whole story of Powderkeg the album.

Jac Dalton's third solo offering may follow in the musical footsteps of predecessor ICARUS but it's making its own tracks by carrying a lot more light, shade and hefty chunks of contemporary rock across its eleven songs than the opening number's chest pounding anthem to heavy melodic rock would suggest.

'Blow Me Away' and 'Roll with the Punches' fuse heavy AOR with contemporary hard rock (as well as delivering simple but effective choruses) while 'Can't UnRock Me' is a swaggering big slice of bluesy-styled rock that complements both the melodically injected but similarly weighted 'Let it Go' and the slower, heavy blues of 'When I'm Alone With You.'

'Just Enough to Believe' is Jac Dalton and band in modern-era Journey territory, but lyrically and retrospectively nodding to fellow Oz rocker Rick Springfield while setting themselves firmly in melodic rock airplay mode.

For fans of classic rock there's a fairly faithful to the original cover of Aerosmith's 'Sweet Emotion,' the latter a great fit for the guitar-led rock tone of the album and Dalton's voice.

For change of pace there's the cry for freedom power of the anthemic 'One Heart / One Land,' a song that is revisited at the end of the album as a Bonus Track entitled 'Chloe's Song' (an acoustic take of 'One Heart / One Land' that retains the almost gospel-styled vocal backings).

All of which means POWDERKEG is an explosive little album – and Jac Dalton's best album to date. 

10/10

UberRock (LINK)
"Jac Dalton is a new name to me, but not for long it would seem, as the hard rocking Aussie artiste and his band have made my list of bands to keep an eye out for with the release of 'POWDERKEG'.
Although in saying this, the initial promise of the first couple of songs is somewhat lost four songs in with a cover of Aerosmith's 'Sweet Emotion'.  Thankfully though that is the only bum note for me on an otherwise very good album.
'Just Enough To Believe' gets me back in the saddle again, coming over like an Aussie Jackyl, the vocals of main man Jac (Dalton) are pretty decent and the recording band made up of Graham Greene, Annemieke Heijne, Donna G, Troy Brazier, Jim Awram rock the music out just enough, to get me excited. However they know when subtlety is needed like on 'One Heart / One Land'.
Rock music this good needs to be heard, and hopefully the band will continue on the righteous path to rock."


MusicSA (LINK)
American born singer Jac Dalton and his band have made their mark on the city of churches this year, scoring a spot at the Clipsal 500 concert series was no mean feat. On the back of this performance was the release of POWDERKEG, Dalton's third record under his own name. Here he presents a powerful journey of persuasive hard rock.
Out of the ferocious lead guitar lines Dalton's voice bursts through. In songs such as 'Roll With The Punches' the soaring lead vocals are bolstered by a team of empowering backing vocals. 'One Heart/One Land', which is dedicated to deceased child Chloe Valentine, sticks in your head with ease, and the hook in 'Just Enough to Believe' elevates the tune to new heights. While this is primarily a guitar driven album, lashings of organ fill out any holes in its harmonic territory and a warm bass sound does well to cut through and beef up the rhythm section.
POWDERKEG instantly takes you back to the hair metal of the 1980s and is executed with power, precision and finesse with musicianship and production that is top notch!
4 Stars!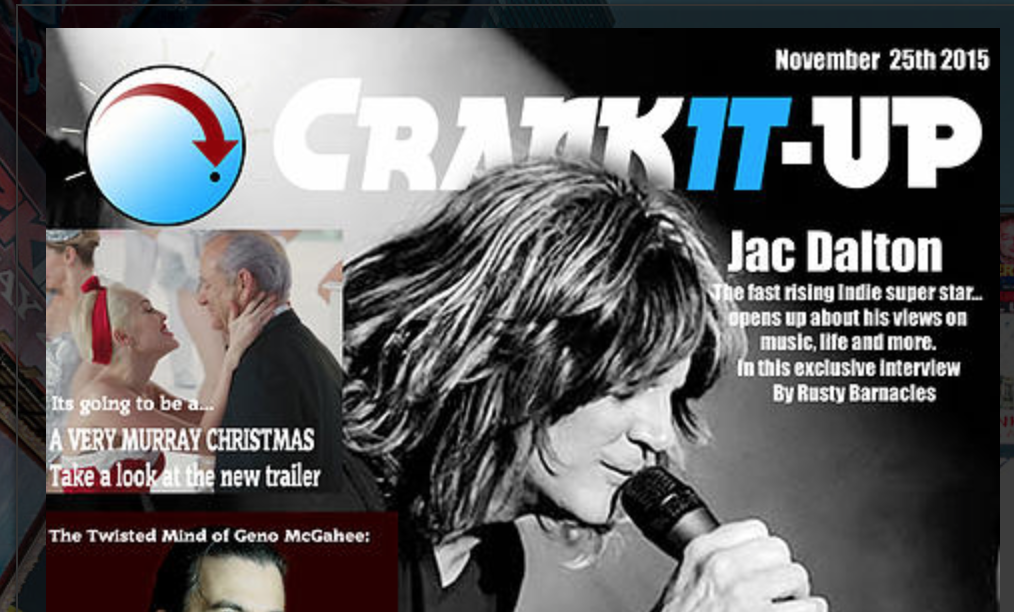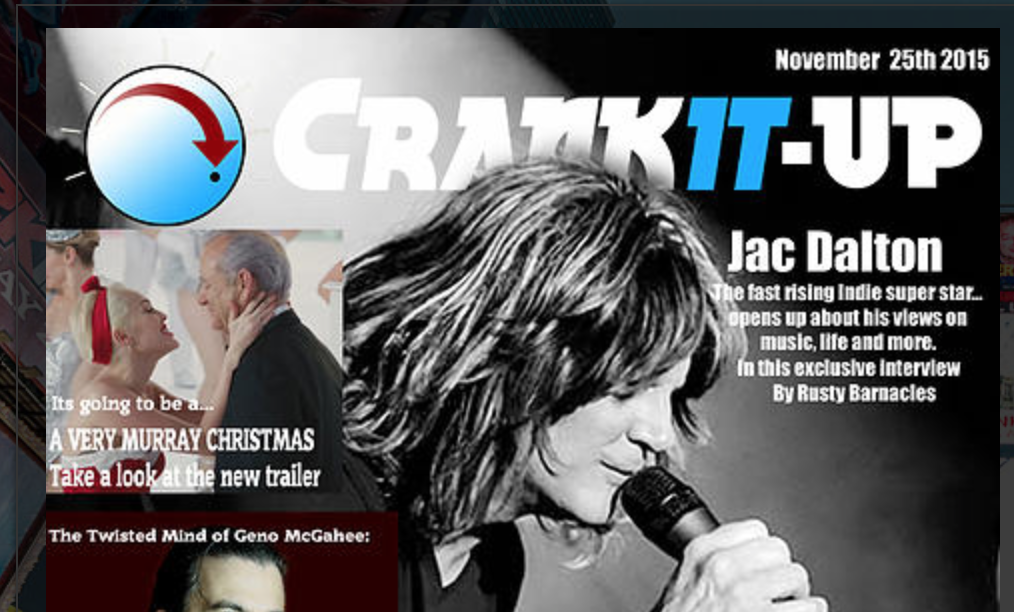 Crankit-UP (LINK)